Insights.
TRADITIONAL PRODUCTION TECHNIQUES OF THE TERRITORY.


THE AMARONE DELLA VALPOLICELLA
The Amarone takes its name from the word 'amaro', meaning bitter, to distinguish itself from the sweeter Recioto della Valpolicella, from which it unwittingly originated. Some Recioto was once placed in a barrel and then forgotten. As it continued to ferment, all its sugars transformed into alcohol and what was once a sweet wine became dry, and so it was given the name Amarone.
Grape drying is so fundamental to Amarone production that it has been described as a second harvesting. At the moment of picking, sparse bunches of perfectly mature, healthy grapes are selected for their ability to let air circulate. They are then placed on traditional arele wooden trays in large, airy fruit cellars to undergo desiccation until the January following their harvest. The cool autumn and winter breezes enrich the grapes with new aromas and deep, full-bodied flavours. The Amarone then undergoes at least three years of ageing in Slavonian oak barrels before being left to refine in the bottle for at least six months.
Producing Amarone is an exciting labour of love that does not end with the harvest. In fact, it can only really be considered a great Amarone vintage when the entire cycle from flowering to growth to harvest to drying has taken place in perfect conditions.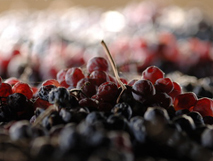 THE RIPASSO METHOD
In a practice which is unique to the region, Valpolicella is made using the very specific oenological technique of Ripasso.
After fermentation the Valpolicella is 're-passed' over the still warm and sugar-rich Amarone skins. In the 10-15 days that the Valpolicella is in contact with the Amarone skins, it undergoes a new fermentation process during which it extracts colour, sugars and aromas from the skins. This enhances the features of this native vine, making for a unique wine.
The Ripasso method gives the Valpolicella a greater structure and maturity whilst moderating its acidity to produce a more rounded and concentrated wine, making it best suited to 12 months of ageing in barrels.
It is a wine which combines velvet harmony with marked complexity and is particularly notable for its almost sweet tannicity, making for an extraordinarily pleasurable wine.